Description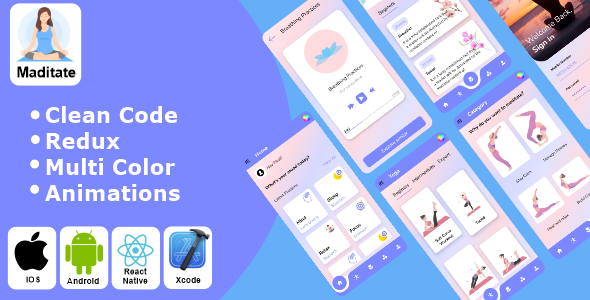 Android and iOS app from single source code
Meditate App is a React Native Yoga and Meditation App for Multipurpose template.
This has been built with React Native CLI. Meditate App UI is compatible with both Android and iOS. code format is easy to use, clean and well-formatted.You can quickly install and check our demo application.
Meditate app help you learn and master various meditation skills like focused deep breathing, mental clarity, and being present. We offer various tools like mood trackers,
expert-guided meditations, timers, and a community of fellow meditators.
Meditate app such as Calm and Headspace provide users with soothing audio, guided meditations and breathing exercises designed to improve mental well-being. The app has everything organized into different categories: focus, lullabies, relax, sleep, soundscapes, and nature melodies.
Features
Design with React Native
For Android & iOS
Redux
Easy to Understand Code
Clean Code
Ready to Integrate
Lottie Icon & Images
Otp Verification
Bottom Tab & Menu
Sweet Alert Modal
Button
Color Customization as per your brand Color
App Header
Static Tabbar
Splash Screen
Swiper
Beautiful Login, Register & OTP Screen
Home Screen
Profile & Edit Profile
Skills Wise Meditation
Latest practices
Yoga for beginners, Experts
Meditation for beginners
Category wise Meditation and Yoga
Meditation Musics
Meditation Steps
Download option
Offline Lessons option
Video Quality
Setting Screen
Help Screen
… Much More
What you will get?
Meditate App
Full source code
Documentation
Free Version Upgrade